Open Source Your Knowledge, Become a Contributor
Technology knowledge has to be shared and made accessible for free. Join the movement.
Create Content
Une solution !
Pour pallier à notre problème, on peut utiliser le design pattern Decorator !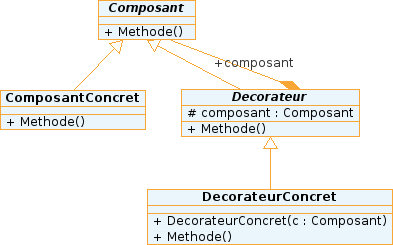 Dans ce modèle, on voit plusieurs choses :
On peut créer plusieurs composants concret
On peut étendre les fonctionnalités de nos composants grâce au décorateur
Le decorateur est une classe abstraite qui hérite de Composant et qui a un attribut Composant
Chaque DecorateurConcret redéfinie les méthodes de Décorateur
Interets
Lorsque le dévelopeur à vu une partie de l'application qui est sujette à beaucoup d'évolution, sa tache est grandement simplifier par ce design pattern.
Open Source Your Knowledge: become a Contributor and help others learn.
Create New Content