Open Source Your Knowledge, Become a Contributor
Technology knowledge has to be shared and made accessible for free. Join the movement.
Create Content
Exercice 7
L'exercice 7 consiste à implémenter le jeu puissance 4. Bien que cela puisse constituer un prolongement de l'exercice, il ne s'agit pas de programmer une IA mais d'implémenter un programme pour permettre à deux personnes de jouer à tour de rôle.
Les points principaux que l'on retrouvera dans votre programme :
Initialisation du jeu
Saisie d'une entrée pour un joueur
Détermination de la fin d'une partie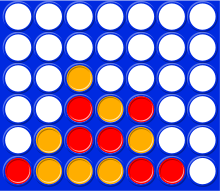 Open Source Your Knowledge: become a Contributor and help others learn.
Create New Content