Open Source Your Knowledge, Become a Contributor
Technology knowledge has to be shared and made accessible for free. Join the movement.
Create Content

Le design pattern
Il existe donc le design pattern composite qui permet de gérer un ensemble d'objets en tant qu'un seul et même objet, autrement dit un objet composé de plusieurs autres.
Il permet d'additionner les propriétés des différents objets (par exemple un prix) pour en composer un seul et même. Il simplifie les compositions car on peut ajouter ou supprimer des éléments d'un objet composé grâce à des méthodes, sans avoir à modifier le code de leurs classes.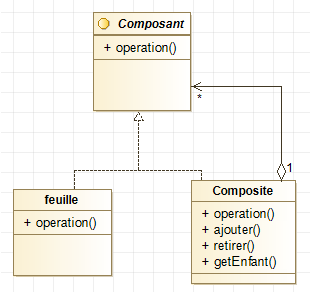 Open Source Your Knowledge: become a Contributor and help others learn.
Create New Content